Baoji Lyne Metals Co.,Ltd

Non-ferrous metal Titanium,Nickel,zirconium alloy material and machined parts supplier
Titanium Tubesheet for heat exchanger use GR2
Product Description:
Titanium and Titanium alloy material and machined parts supplier
1. Material introduce
Material

Chemical Composition

UNS

Item style

Ti Gr1

Pure Ti 99.9%

R50250

Pipe and tube/sheet and plate/bar and rod/wire /pipe fittings/CNC machining /bolt and nut......

Ti Gr2

Pure Ti 99.6

R50400

Ti Gr4

Pure Ti 99.5

R50700

Ti Gr5

Ti-6al-4v

R56200

Ti Gr7

Ti-0.2pd

R52400

Ti Gr9

Ti-3al-2.5v

R56320

Ti Gr12

Ti-0.3Mo-0.8Ni
2. Type of Titanium machined parts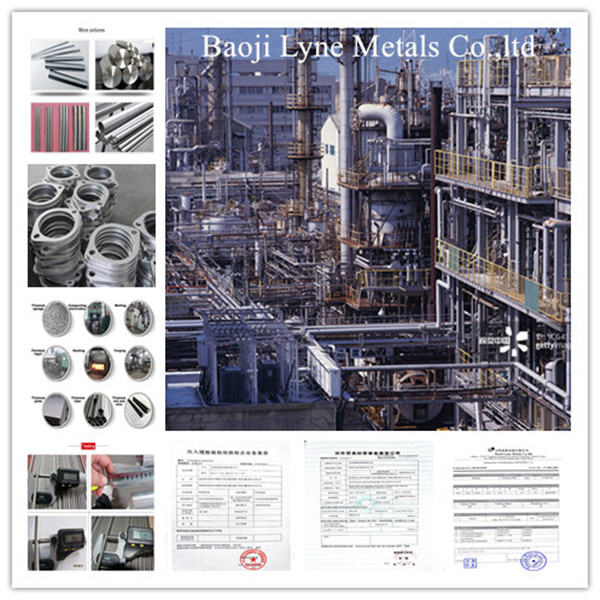 3. Titanium tube produce process

Titanium Tube Processing Flow
Titanium Seamless Tube/Pipe Titanium Sponge→Compacting Electrodes →Melting →Forging→ Billet
→ Extruding→ Rolling→ Straightening→ Seamless Tube
Titanium Welded Tube/Pipe Titanium Sponge→Compacting Electrodes→Melting →Forging→ Slab
→ Hot Rolling→ Cold Rolling→ Ti Strip →Welding →Welded Tube


Titanium tube sheet is for heat exchanger to Hold the tube .